Design accessories for your business
Although business is a general and broad concept, each industry has its own rules. Important concepts that you must consider as an entrepreneur include, for example, corporate culture, human resources and psychology. Did you know that all this in combination with interior design create suitable working conditions for your employees? Let's take a closer look at this topic, shall we.
Although interior design and design accessories are nice to look at, they are the last factor you take into account when running your business. However, it all depends on the business you are running. If you own industrial halls, large-scale productions and similar operations, the core of the building is probably a large hall or functional cells. There are certainly tight regulations and standards that need to be followed. What about offices or toilets in such a company? Clients and employees come into contact with premises that reflect your corporate culture every day. Do you not think that having these premises styled in pleasant is a way to go? Why is corporate culture so important anyway?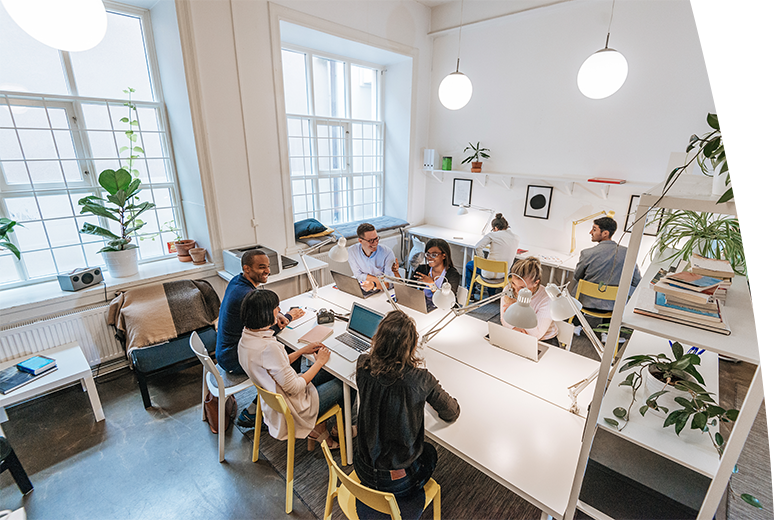 We will probably understand this the best on the example of corporations which dived into the concept of corporate culture head on. Several sources state that corporate culture reflects how employees interact with the environment in which they work. Thanks to corporate culture, values ​​and standards are being created in your company. According to Deloitte studies, up to 88% of employees believe that corporate culture is the foundation of success. Success itself is linked to a number of factors such as the volume of work and its quality, human resources and the like. However, in order for people to be efficient and productive at work, it is also necessary to provide them with material things. This involves creating a pleasant workspace for each employee or common areas for interaction and relaxation. All this is also related to the interior design of the working environment. Did you know that each country ranks the most beautiful workplaces? Many people even choose their future job based on what the workplace looks like. Check out some tips and design gadgets to liven up your workplace.
Common areas - "the living room" of the company
Common areas in companies have been very popular lately. In this space, an employee can relax for a while. Such a space motivates people to communicate more and exchange stimulating information. Large "open spaces" were once created for this purpose. The opposite is true, though. According to Harvard University's study "The Impact of the Open Workspace on Human Collaboration", people working in open space opted for face-to-face communication much less than thought, thus minimizing the social contact to a bare minimum. Therefore, if you own a company with offices or you lead a team, try to create a "living room" for employees instead. The best bet is furniture that supports human face-to-face contact.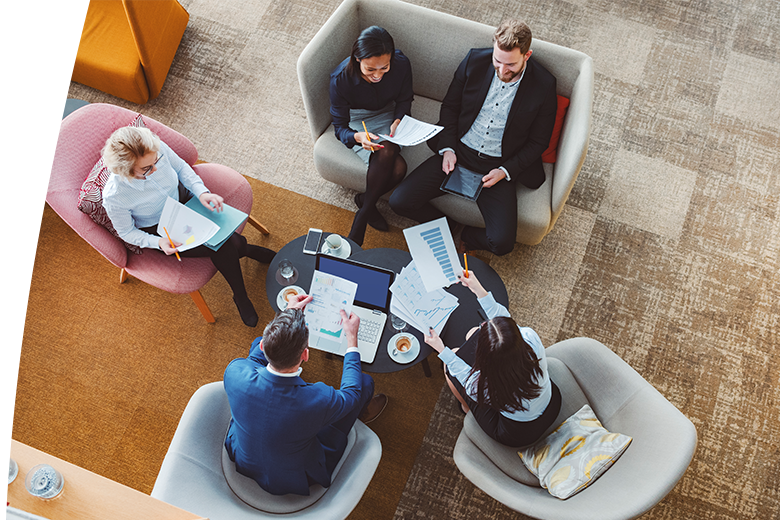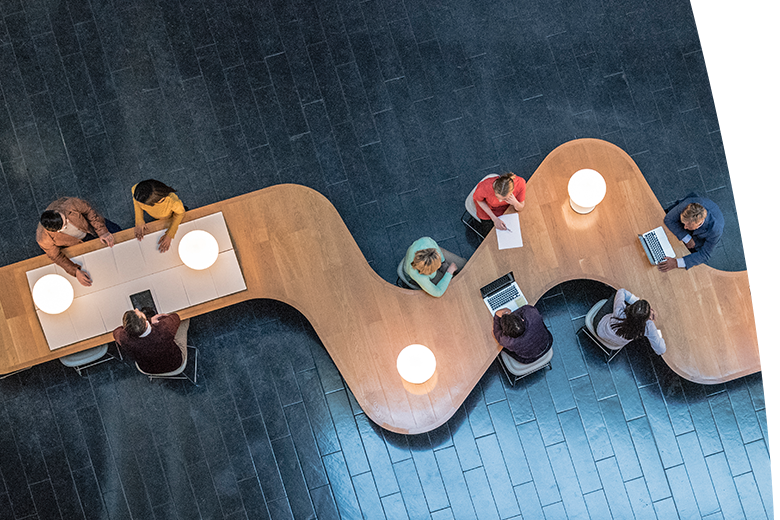 Green space
Man is a part of nature and therefore it goes without saying that he needs greenery for his life. Have you thought about the fact that employees in factories or shopping malls do not see the sun all day and often not even greenery? The green color has a calming effect on the human psyche. Try to bring at least a piece of greenery into your business to make a difference. Try a wall of moss or green plants at the toilets - a very popular concept. Some plants thrive in moist environment. Place the plant next to the sinks near the mirrors or at the entrance to the toilets - the space gets transformed almost immediately.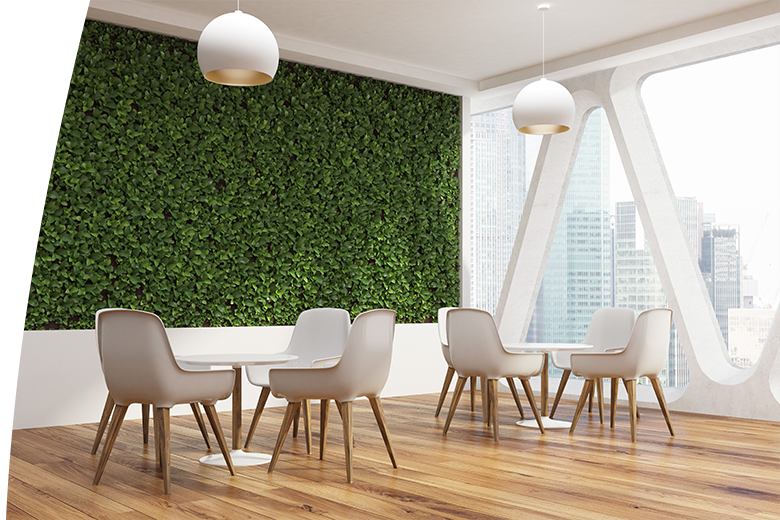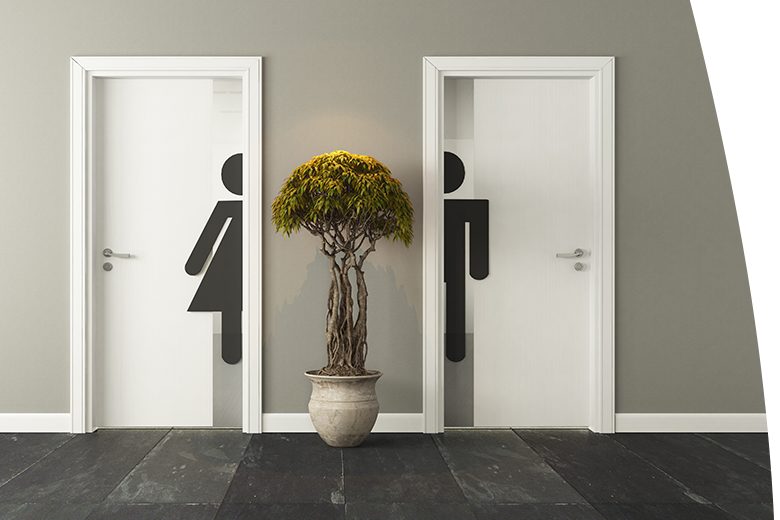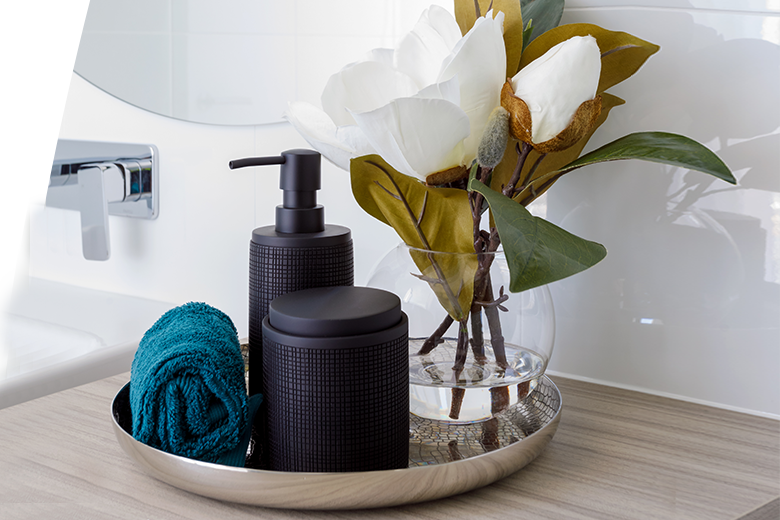 Accessories
Toilet rooms do not have to be boring. As for accessories, they can make even the simplest space special. Just think about what would suit your corporate culture and set style. Stick to your company's pre-selected colors and design. Sometimes even a wall color, toilet paper holders or lighting can become fashionable pieces. Get inspired by the following tips.